Maintenance and Care of the Hearing Aids
Your hearing aids are designed to resist moisture and perspiration; however, maintenance and care of your hearing aids is important to sustaining excellent performance and long life of the hearing aids. If your hearing aids are exposed to water, sweat, or excess dust, the aids must be cleaned and dried.
Cleaning your Mach I Thin Tubes and Eartips
Inspect your thin tubes and eartips for dirt, earwax, and moisture. If the thin tube or eartip is visibly dirty, do not try to clean them with chemicals or harsh detergents. The thin tube can be cleaned by inserting the thin tube cleaning wire all the way through the thin tube (see photo). Only use the thin tube wire provided in the package. The eartips can be cleaned with dish soap and water, or replacement eartips can be ordered.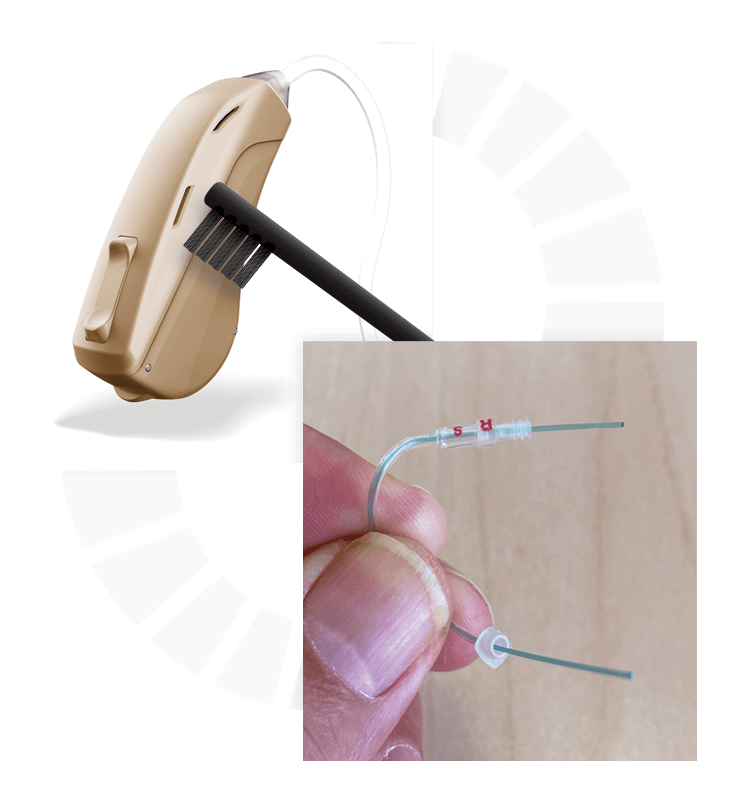 Cleaning your Mach I Pro Receivers and Eartips
Inspect your eartips and receivers for signs of dirt, earwax and moisture. If there is debris in the eartip, remove it and clean it with a tissue or soft cloth. While the eartip is removed, inspect the receiver port for any wax or debris and clean with the brush as necessary. See user manual for exchanging wax guards.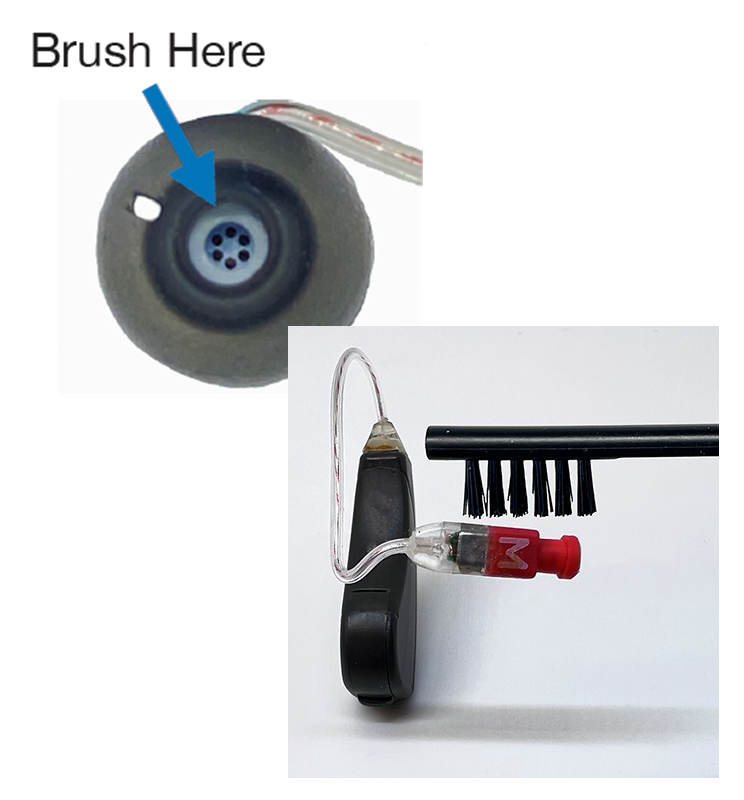 Hearing Aids Storage
The hearing aids should be stored in a dry place at room temperature with the battery drawer in the OFF position when the hearing aids are not being used. The battery should be removed for any long-term storage.
Operating Conditions
The hearing aids can be operated in the following environmental conditions:
Temperature not to exceed 122F. Humidity not to exceed 95% rH
This hearing aid is classified as IP57 (depth of 1 meter for 60 minutes). It is designed to withstand daily life (mild rain, perspiration). It is not intended to withstand liquids with chemical content such as detergents, chlorinated water, soap, hair spray, make up, cosmetics or saltwater. Do not immerse your hearing aids in water.
Conditions Causing Adverse Effect
Avoid excessive vibration, mechanical shock, and dropping your hearing aids on hard surfaces. Avoid exposure to excessive heat, humidity or water. These conditions may damage your hearing aids and void the warranty.